Timing Solution in progress: 2006
future development in perspective
written by Sergey Tarassov
This article is written in response to a lot of e-mails that I get, with the same question. So here I will show you the nearest perspective of Timing Solution software.
As a big picture, the main goal for Timing Solution is a creation of the mechanical trading system based on alternative to technical analysis technology. This is a very complicated task, and it takes time. We will get there, step by step.
Our nearest plans are:
1) Real Time version with a possibility of data feeding through already established systems (like eSignal, Interactive Broker, and other). This is our main goal for the next several months.
2) Multi stock version. For real trading, we need to work with different tradables at the same time. We are working in this direction. This is the task for nearest year. It will be covered by Timing Solution Advanced version. For intern usage, some of these features are available already. See this screenshot produced by the experimental version; there I have downloaded several financial instruments (corn, gold, 5 min Euro):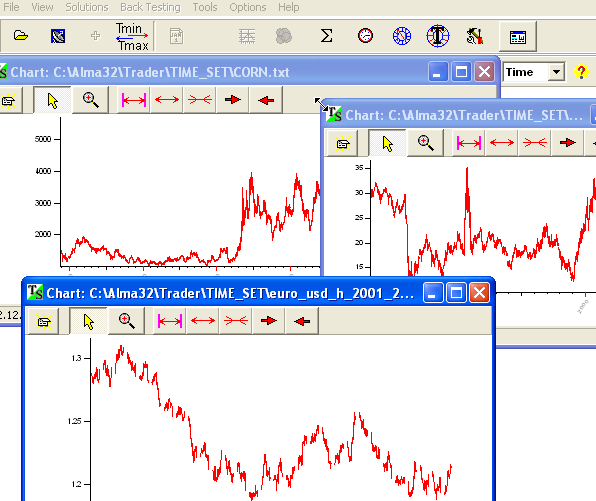 3) Some features related to the multi stock version are already exist (but are not available in Timing Solution Basic version). Among them, there is a possibility to make a forecast for several financial instruments by clicking just one button.
4) In SuperSearch/ULE module, we plan to add LAG possibility. It will allow to set the time lag for any event. For example, we can define the even "10 days before the Sun ingress to Libra". This feature looks very promising. Some econometric tasks that we solve using Timing Solution software require this possibility. It will be available in ALL versions of Timing Solution.
5) The research performed by Yuri Shramenko, Ben Price and Michail Pavloff shows that the simple models based on several astronomical cycles sometimes are more effective then complicated models with Neural Network technology. This approach will be definitely developed more, and the possibility to perform Back Testing for these models in order to construct reliable forecast models will be added.