Installing Timing Solution on a new computer and getting the Update and Terra modules
Brief explanation: installing Timing Solution software
Brief explanation: getting updates and access to Terra Incognita modules (if you are eligible)
Brief explanation: installing Timing Solution software
Step #1: enter User Area on our website www.timingsolution.com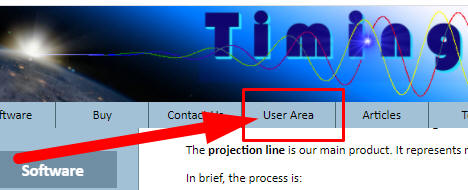 Step #2: type your username and password there and click "Access to your personal area" button:

Step #3: choose the item in the second column to download installer: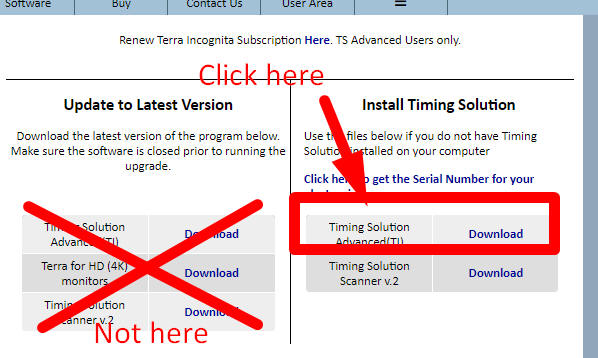 Step #4: Run Timing Solution installer
Step #5: After finishing the installation, you will see the new folder "Timing Solution" added to Start menu on your computer. There you will get the shortcut for Timing Solution software. It means that you are able to run the software using this shortcut in the Windows Start menu: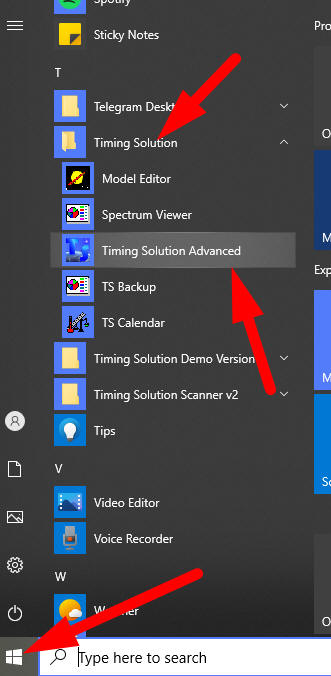 Step #6: After running Timing Solution, you will see a window. Type your Username and send us your computer's HARDWARE ID: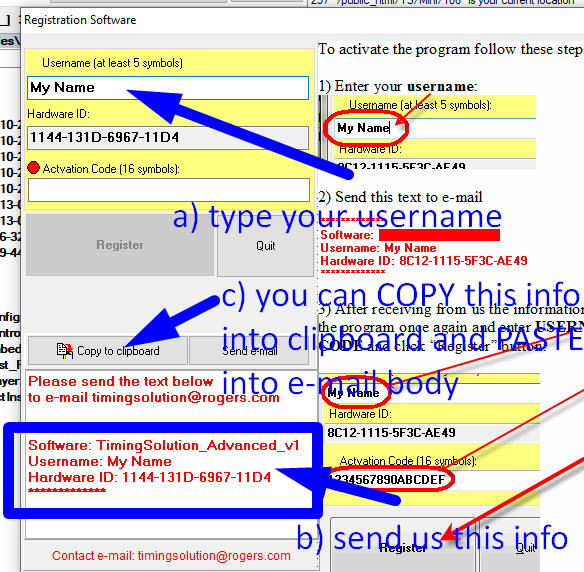 You can copy this info into the clipboard and then paste it to the e-mail.
Step #7: The email with your computer's Hardware ID comes to Timing Solution Support team. We send you back the Activation Code.
Type this code here and click "Register" button: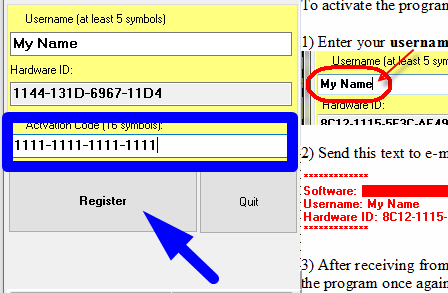 Brief explanation: getting updates and access to Terra Incognita modules (if you are eligible)
Updates are available for all registered customers and are highly recommended.
If you are the registered user of Terra Incognita project, you can access its modules after downloading the update.
Here are steps to UPDATE your version of the software.
Step #1: enter User Area on the website www.timingsolution.com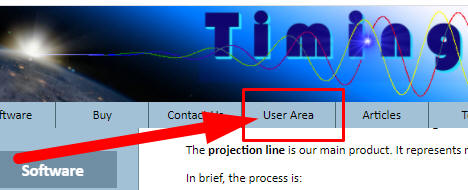 Step #2: type your username and password there and click "Access to your personal area" button:

Step #3: choose the item in the first column to download the updater: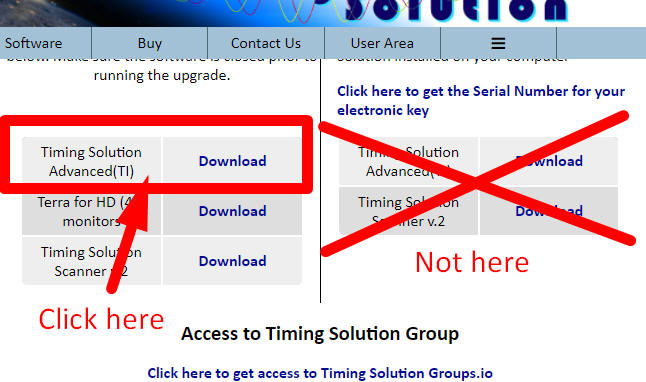 Step #4: To be sure that you are getting the latest update, check the version and available update clicking on Help & Maintenance menu ("About" item) here: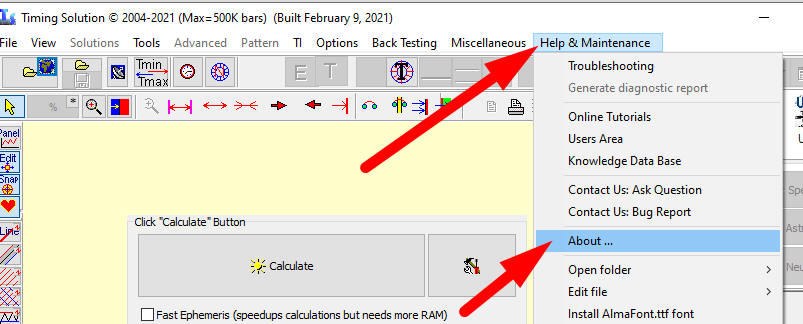 You will see the name of the software, the version you have and the info about the latest available update: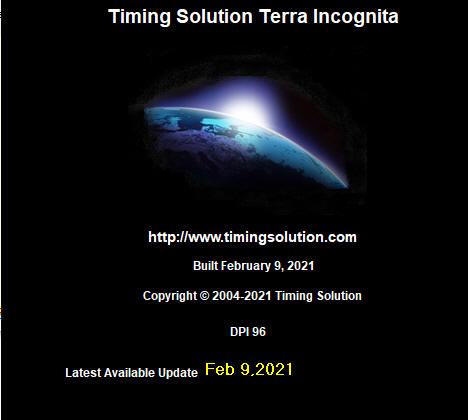 Terra modules (if you are eligible) should appear under TI menu item: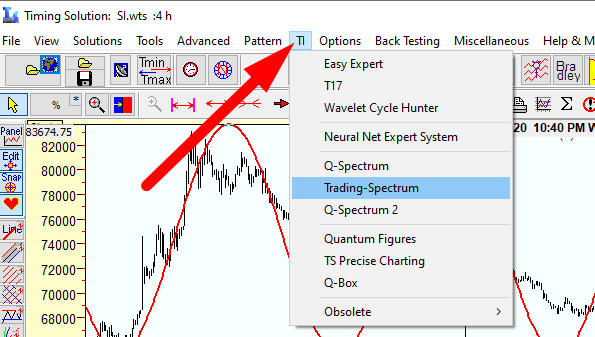 Computer requirements
Operating system: Timing Solution works under Windows operating system (Windows XP and higher)
RAM: 2GB and more
Disc space: 1.5GB
For MAC users: The program is written for Windows operating system. Please make sure that it is possible to run Windows applications with your MAC. To run Windows applications under MAC, you need to install Windows emulator for MAC (more details see here: http://www.timingsolution.com/Doc/level_1/1.htm#Mac
If you need a reminder of your User Name and/or Password, Contact Us through the website www.timingsolution.com
While INSTALLING the software, please note that the downloading takes some time. Usually it is less than one minute, though it may vary depending on your Internet speed.
As soon as downloading procedure is completed, this panel appears (or similar to this, depending on your browser):

Click "Open" button there to open a folder with the installer, then double click on it: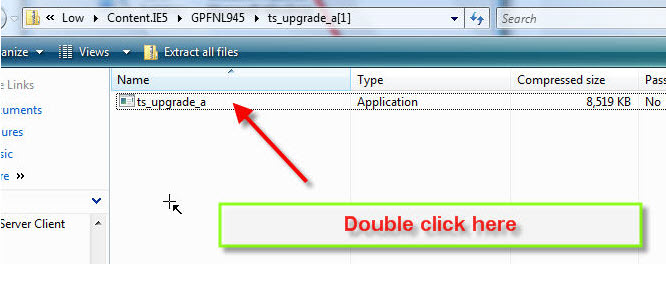 If you have Windows 8.X or Windows 10, you will see this prompt, choose "more info" option there: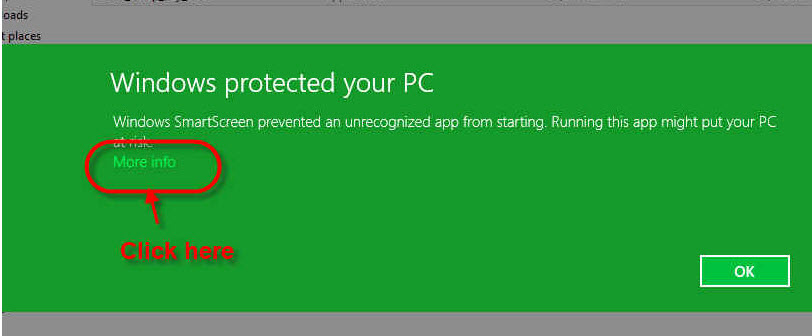 and after that click "Run anyway" button.
Then follow instructions clicking "Next" button: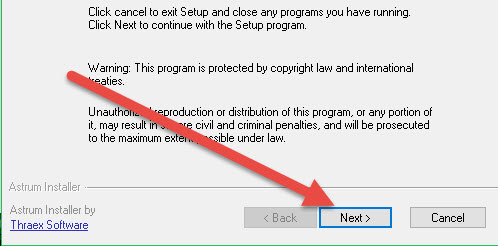 Install versus Update: Please remember that you should install the software first. Only after that you can download updates. You cannot install the update, if the software is not installed on your computer.
Troubleshooting regarding installation and updates: http://www.timingsolution.com/TS/Mini/36/index.htm