Timing Solution - directions for new users
Welcome to Timing Solution world!
Please read this information, it is important. It describes all necessary steps to quick and effective use of the software
User registration
After purchasing the software, you will be registered in Timing Solution data base. You will receive your personal username and password by e-mail. Usually it takes several hours between your payment and the registration in our data base (it may take longer during weekends and holidays). The software has an electronic key, so you will be able to work with the program immediately after receiving your username and password.
User Area
Having your Username and Password, you may download the software through our website http://www.timingsolution.com .
This video shows how to do that: http://www.timingsolution.com/TS/Mini/106/index.htm
Or you may follow these instructions:
1) Go to "User Area", it is here:

2) Type your user name and password (those that you have received by e-mail) and click "Access" button:

You will see the list of programs that you have purchased from Timing Solution. As an example, this is what you see if you have bought Timing Solution Advanced with Pattern Recognition: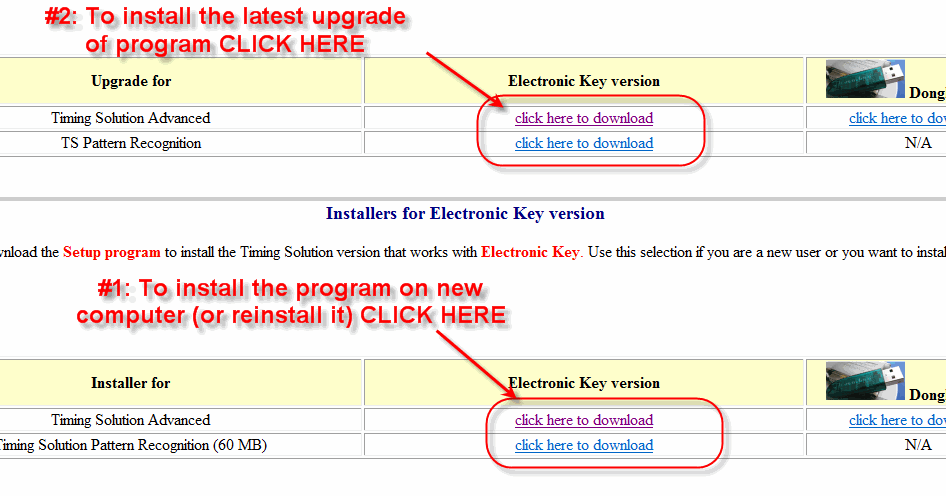 As you see, the page has two sections: Upgrades and Installers. You will start with Installers' part and later you will use Upgrades quite often. Remember that you will always download Electronic Key version.
Installing the program on your computer
Please begin with the installng the program on your computer. To do that, choose option #1 (see the picture above). It is a very important option, and you will use it later, in the future, every time when you have some computer issue (such as switching to a new computer or having to reinstall Windows after your computer's crash or after any hardware upgrade on your computer). Download the program, install and run it. Follow the instructions on the screen to activate the program.
When you buy a new computer
When you buy a new computer simply install the program from User Area, and we will send you a new activation code.
Upgrade
The program is changing very fast; all the time we add new features and improve the existing ones. New upgrades are available through User Area, and you can download them when it suits you.
Before any upgrade is published, you will receive the upgrade notification e-mail through TS Yahoo group. It contains a short description of the upgrade. You have no need to install every upgrade; upgrade the software when you want to do that. (Some upgrades are related to fixing the bugs in the modules of the program that you might never want to try.)
To install the latest version of program any time, choose option #2 (still the same picture above). Make sure that Timing Solution program is closed on your computer before you start downloading the upgrade.

While you install the upgrade, always check the date of the upgrade. The upgrade covers ALL previous changes, i.e. it is cumulative.
Help that you can get
We provide online documentation only. Please check it regularly as we do changes to it from time to time, reflecting changes to the software.
You may be overwhelmed by lots of options and features presented in Timing Solution software. To make the process of learning the software more comfortable for you, we provide "Timing Solution road map". Please find it here, clicking "Help" button:

We highly recommend to follow these steps to study the program:
Step #1: Start with Timing Solution guide: Level I: Basic techniques
Open "Help" section on the website and choose there Level I: Basic techniques or use this direct link:
http://www.timingsolution.com/Doc/level_1/index.htm
You should learn how to:
- download the price history;
- manipulate a price chart (zooming);
- build the simplest charting tools (Fibonacci, Andrew's pitchfork, Gann fans, etc.);
- build the simplest projection line (Composite module). To test yourselves, try to build a projection line provided by Annual and Moon phases cycles. You should get something similar to this: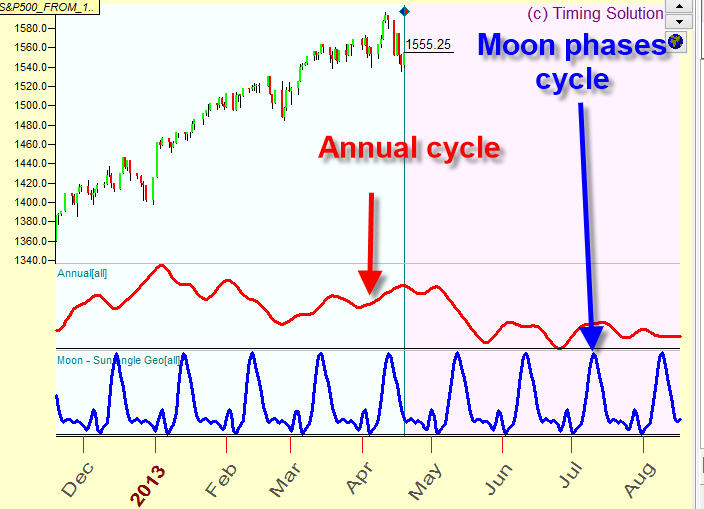 Also look at the "Videos" section. There you will find videos devoted to different subjects of using Timing Solution software.
New users may like starting with this fast video introduction to the sofware:
https://www.youtube.com/watch?v=I9BJWqshji8&feature=youtu.be
http://www.timingsolution.com/Doc/level_1/index.htm ; this is the description of major modules of program.
When you are comfortable with all features from Step 1, you can move to
Step #2: http://www.timingsolution.com/Doc/level_2/index.htm ; the most workable techniques for daily chart are explained here. We constantly upgrade these articles when the new information appears
Terra Incognita project (fo Advanced version only)
Please remember that you have a right to participate in Terra Incognita project for FREE, for 12 months from the date when you have purchased Timing Solution. To activate the access to Terra Incognita, just download the latest upgrade to Timing Solution (through User Area), and then open the folder "Timing Solution" and run there the shortcut to Terra Incognita. Then follow the instructions you find there to get the activation code. It is free for you for one year. After that, you have to subscribe for a fee to keep your access to Terra Incognita modules.

Price history and real time
With Timing Solution you can use many sources of price history data: Yahoo Financial Service, eSignal, Interactive Brokers etc. Here is the explanation regarding this issue: http://www.timingsolution.com/TS/Study/Formats/index.htm
Knowledge data base
Yoou can get the information about modules and features of the program in an instant through Knowledge Database. It can be accessed through the navigation menu on top or by clicking here
Type there a key word related to your question. It could be a name of the module of the program or any stock market related issue. Type it there and click on "Search" button. You will have a list of articles on the website related to your theme: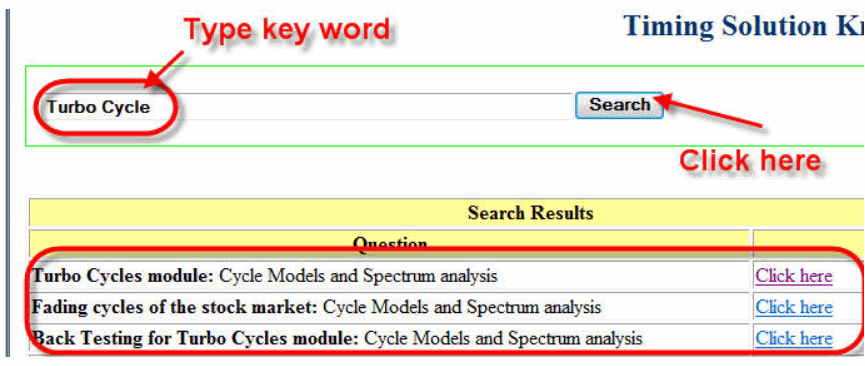 Timing Solution Group:
This group is a valuable source of information regarding the software. You will be registered on Timing Solution Group immediately after the purchase; the invitation e-mail will be sent to you. Accept that invitation to activate Timing Solution Group service. You will receive e-mails from this Group time from time. You can post your questions and read the information about recent upgrades.
Make sure that you receive e-mails from this Group. If you do not, please check "Junk" or "Trash" folder of your e-mail program; it may be there. (Some spam filters block group e-mails.)
This is the link for the Group: https://groups.io/g/timingsolution
Communications and contacts
Based on our experience for more than 10 years, we prefer contacts through Timing Solution Yahoo Group. We believe that it is the best way. It involves the expertise of all Group members, and you can learn there from others.
In case of some emergency (if something is wrong with your version of the software), please use Contact Us section on the website.